ATTENTION COACHES: Would Having an Attorney at
Your Fingertips Help YOU Sleep Better at Night?
With
On-Demand Legal Ally,


You Can Get the Help You Need from an Experienced Attorney…
without Ridiculous Retainers, Sky-High Hourly Costs, or Month-Long Waits!
PLUS…

Get an In-Depth Legal Audit of Your Coaching Business On the House…


So You Don't Get Caught with Your Buns in the Breeze!
Dear Fellow Business Owner,
If you've been in the coaching business for any time at all, you've undoubtedly had one of these questions (or any of a bazillion other legal questions) stuck in your mind… and it can make for some long, sleepless nights.
Although your passion is helping people, legal issues in the coaching world are nearly inevitable… and in a lot of cases, the future of your business depends on whether you get accurate answers to those questions!
But…
If you're anything like most coaches (even ones who have been in the business for years and have built up a loyal clientele)… you don't have any good way of getting legal advice when you need it!
Just about every single day, I talk to a coach who is "pants-ing" the legal aspects of her biz. And I always hear the same reasons:
"I don't want to pay

$200… $400… or even more per hour

for a lawyer to research my question and get back to me."
"All the good attorneys in my area require retainers of at least $5K before they'll even talk to me… and

the top ones want retainers of $10K or more!"

"I can't seem to find a lawyer who knows the first danged thing about the coaching industry.

They all just want to give "cookie cutter" answers…

and those really just don't work for my business!"
"Attorneys always take weeks to get back to me, even on simple issues.

When I need an answer to a legal problem, I need it now…

not a month from now!
But if you want a successful coaching business that doesn't make you
want to pull your hair out… you need access to solid,
proven legal advice!
Let's face it… you're an expert coach, not an expert attorney. You started your business because you want to make a dramatic, positive difference in the lives of your clients... and that's where you need to be focusing the majority of your time and energy.
You really can't expect yourself to know all the legal "ins and outs" of the coaching business. It's not even fair to expect yourself to put in the time slogging through websites and books trying to find the answers you need.
And even if you do find some information on your question or problem… how do you know that the info is reliable? Unless you have years of legal experience, the answer is… you don't!
But as your business grows, you're going to need accurate, complete legal info (and fast!) for all kinds of issues like:
Dealing with

a client who refuses to pay you

for products, services, or programs.
Understanding (and preparing for) the

legal issues that come with growing your business

or offering a new program.
Making sure you've got the right policy language (like privacy policies, terms and conditions, etc.) on your website to

protect yourself and your business

and keep it compliant with a whole mess of laws and regulations.
Creating airtight client agreements for one-on-one coaching, workshops, VIP programs, courses, and anything else your clients exchange money/information for. If you don't have the right language in these agreements, you could leave yourself

exposed to getting ripped off, sued, or even shut down

entirely!
Making sure that you follow the

correct legal procedure when partnering with another coach

(or other professional) to start a new business, create a new course, etc.
Dealing with

chargebacks

(if you've ever tried to dispute a chargeback, you know what a time-consuming headache it can be!).

Trademarking a service or program name

(this is a long and often frustrating process that can grind you to a pulp if you try to go it alone).
Navigating the

legal challenges of hiring employees

to help your coaching business grow.
And on (and on and on – believe me, the legal conundrums of coaching can seem nearly endless)!
The question is… if you need solid legal advice, but working with the average attorney is both cumbersome and super-expensive… where are you supposed to turn for help?
Until now, the options for professional coaches have been "slim" and "none."
That's why I decided to make it easy (and affordable) for
coaches to get the legal advice they need!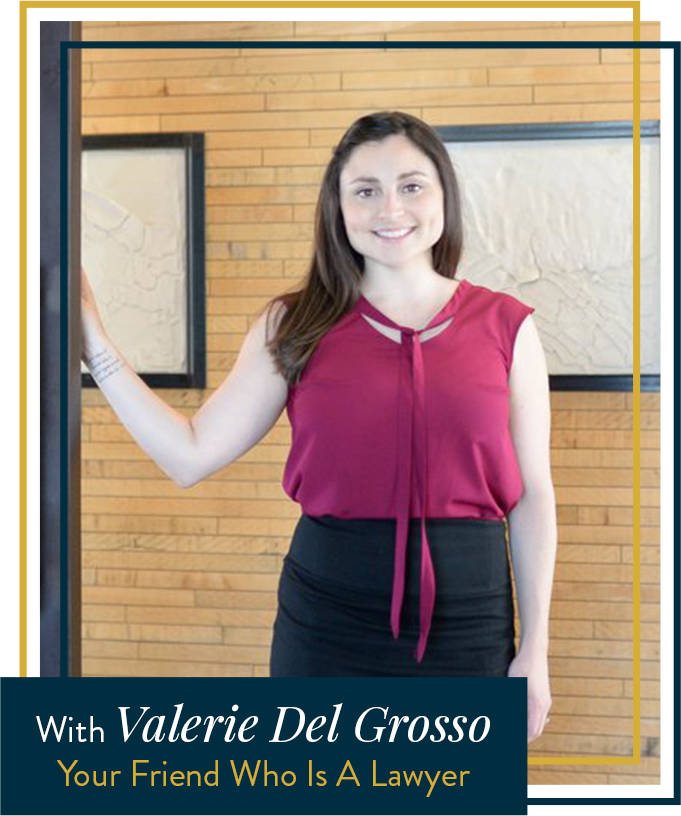 My name is Valerie Del Grosso.
I have more than 9 years of experience helping coaches – hard-working, passionate people just like you – get the legal help they need to protect their finances, grow their businesses, and stay out of legal "hot water."
My law office is in Las Vegas, but I've been fortunate enough to help coaches from all over the U.S. I specialize in working with coaches, so my clients don't have to worry about me "learning on the job" – I know the legal side of the coaching industry forward, backward, inside-out… well, you get the picture.
And I'm not one of those "ivory tower" lawyers who would rather swim in a tank of starving piranhas than set foot in a courtroom. I've gone toe-to-toe with some of the best-known attorneys in the business… and won challenging verdicts for small businesses and household names alike!
But to me, being an attorney isn't about racking up victories I can brag about
at cocktail parties.
It's about empowering coaches like you to run businesses that are highly successful,
profitable, and even fun!
That means doing whatever I can to take the stress out of running your business… and making sure you have the solid legal advice you need to make the right choices every step of the way.
So I decided to create an opportunity to get the coaching-specific legal advice you need – night or day – no matter how much help you need. And unlike other attorneys, I've made sure that it's as affordable as it is valuable.
Right now, that opportunity is right at your fingertips!
Unlimited Access to My Lawyer Brain… for One Low, Flat Monthly Fee!
Now, you can have the same legal advantages that multi-million dollar companies have – on-demand access to expert legal advice and information… without tying up your business capital in a huge retainer or forking over buckets of cash every time you need help!
When you join my small group of On-Demand Legal Ally members, you can ask questions anytime you want through our easy-to-use voice message system. And I'll give you the answers you need via a return voice message – usually within 24 hours (except on holidays, weekends, and the occasional vacation… a girl's gotta have her rest and relaxation, ya know).
And instead of dumping your profits into outrageous attorney fees, you'll get unlimited access to advice, information, and answers (all tailored to your specific business)… for just one low monthly fee!
It doesn't matter how many questions you need help with. Let's say you're in superstar mode and you're planning on some serious growth… and that means you're sending me questions every single day for a month. Perfectly fine by me – you won't have to pay a penny extra!
So what makes On-Demand Legal Ally a perfect fit?
You've probably noticed that there's no shortage of lawyers out there…. and just about all of them would be more than happy to take your hard-earned money! So what makes working with me the perfect solution for your coaching business?
A predictable, affordable investment –

no huge retainers, no outrageous hourly fees. You know in advance what your expenses are going to be every month, so you can easily plan your budget without big, expensive surprises from your attorney!

Legal advice just for coaches –

instead of getting generic legal advice from a lawyer who doesn't really understand the nuances of the coaching world, you're getting targeted advice you can use as a coach to keep your business, your finance, and your future on track. And that's something you just won't find anywhere else!

Answers just for you –

no two coaching businesses are the same the challenges and opportunities you encounter will be different from those of any other coach. That's why you need advice that is tailored just for you… and that's exactly what you're getting here!

Proactive advice helps you plan for the future –

getting legal advice when you have a problem is great… but that's just the beginning! You need the right answers to not only protect yourself and your business today… but to make sure you can sustain growth, profitability, and competitiveness years down the road. So I take a proactive approach to ensure that you have ready-to-go lists of what you need to o from a legal standpoint as your business evolves!

Thorough, honest advice that doesn't pull any punches –

look, I know that running a coaching biz is hard… and sometimes, you're not going to be in love with the advice I give you. But I'm not going to "sugar coat" things just to give you a false sense of security, or gloss over important points so I can move on to the next member's question. I promise to always give you the honest, thorough advice you need… even if it stings a little.
Plus… this membership gives you a wheelbarrow of other benefits that will make running and growing your coaching biz easier, more enjoyable, and more lucrative, too…
No more legal guesswork!

I've designed this membership to give you 20/20 clarity whenever you need it… and even when you're not quite sure what you need to know. I put 110% into giving you solid, detailed legal advice, so that you can focus on what you do best – creating change for your clients. So no matter what challenges or opportunities come your way, you can rest easy knowing that I've got your back!

No more missed opportunities!

Coaches tell me all the time that they're afraid to grow or step outside of their "comfort zones" because they don't know what legal issues might crop up (or how to handle them if they do). And that means they let juicy opportunities slip right through their fingers! As an On-Demand Legal Ally member, you can get the legal insights you need – fast – so you can seize those opportunities and rock your business even harder!

A level of peace of mind that most business owners would kill for!

Ever had one of those 3AM "oh shit" moments when you find yourself sitting straight up in bed, worrying about a potential legal problem you hadn't pondered before? No problem! Just shoot me a voice message, and know that I'll get you the just-for-you advice you need as quickly as possible. Then you can simply let your worries go, get back to sleep, and wake up refreshed and ready to help your clients kick some serious booty!

Proactive advice helps you plan for the future –

getting legal advice when you have a problem is great… but that's just the beginning! You need the right answers to not only protect yourself and your business today… but to make sure you can sustain growth, profitability, and competitiveness years down the road. So I take a proactive approach to ensure that you have ready-to-go lists of what you need to o from a legal standpoint as your business evolves!

Confidence that would make an Olympic athlete quiver!

Just knowing that you've got a seasoned legal ally on your side makes it easy to make decisions confidently, whether you're launching the signature program that will take your business to the next level, or putting your foot down when a client is trying to take advantage of you. And believe me… showing that calm, unshakable confidence is one of the most powerful ways to stay completely in control of the future of your business!
Oh… and here's one other thing that puts your On-Demand Legal Ally membership leagues ahead of anything else out there…
My clients LOVE having on-demand access to advice that truly helps them grow, manage, and protect their coaching businesses… and many of them tell me it would be worth double or even triple the investment!
But I wanted to make sure that your membership opens as many doors as possible for you. So when you join today, I'm also including (at NO extra charge)…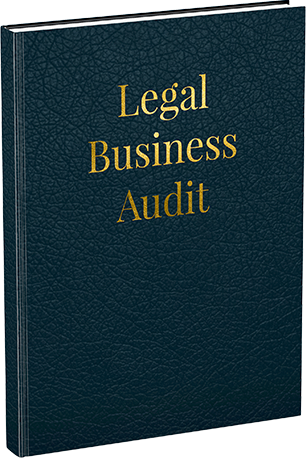 A Just-for-You, In-Depth Legal Business Audit (a $2,995 Value)!
Like most coaches, you probably don't know what legal risks you're exposed to right now… or what to do to eliminate those risks. But that all changes when you become an On-Demand Legal Ally member. One of my attorneys will conduct a thorough legal audit of your business as it stands right now… and identify the "holes" that could cost you time, money, and even the future of your business!
It's common for business owners to pay $2,995 or more to get their hands on these kinds of iron-clad, business-saving insights… but you're getting them on the house with your On-Demand Legal Ally membership!
Let's hear what a few of my clients have to say
about this one-of-a-kind membership…
Amanda Goldman-Petri, Market Like A Nerd
I have hired many lawyers before Valerie, and they were all very stereotypical lawyer types. Meaning, they were expensive to start with and then would drag things out to rack up fees, and end up being EVEN MORE expensive. Not only would I pay up the butt hole, butt they were difficult to work with because they didn't genuinely care about me or their work. Valerie is so different, and that's why I've stayed with here for years and will never need another lawyer every again. I'm her client for life! She is very ethical in her business practices, so I never feel taken advantage of She is extremely, extremely intelligent and I trust her with the life of my business. She is the friendliest lawyer I've ever met and I can tell that she always has my best interest in mind, because she genuinely cares about me as a client and as a person. She ahas also spent years honing her legs game in the coaching arena specifically , so I always know I'm not getting general advice, but rather a tailored approach based on my industry.
Barbara Spanjers, Cake Is Magical Wellness
Valerie is a legal rock star who helped me put all the pieces in place for my online business. She totally gets the unique needs of virtual entrepreneurs and makes the whole process easy. As a non-lawyer, I didn't know where to start to protect my business. What should go in my client contracts? What needs to be included in a privacy policy? Googling can only take you so far. And with other lawyers, I felt like I needed a translator to understand what they were saying. (Besides, they charge a gazillion dollars.)

I'm grateful that I found Valerie - she explains complex issues clearly so I can make informed decisions for my business. Best of all, that information is organised in a membership area, available 24/7. Having knowledge at my fingertips gives me the freedom to focus on the parts of my work that I love.
Sabra D., N + D Creative Boutique
Valerie is an essential component to successfully running my online business. She provides me with the confidence and peace of mind to purpose mu biggest goals/dreams. I refer every entrepreneur I meet to her.
Space is limited – claim your membership and get
solid legal advice at your fingertips…
starting today!
If you've been "pants-ing" the legal aspects of your coaching business because you can't stand the thought of working with a high-priced, unreliable attorney who just gives out generic answers… then this is the opportunity you've been waiting for.
Right now, the doors to my On-Demand Legal Ally membership are wide open… and you can lock in your spot today. But instead of paying a $5k retainer or trying to stomach $200/hour+ fees every time you have a questions… you're getting access to unlimited legal advice for a flat fee of just…
For 3 Months, Then Just Month-to-Month After That
And remember, that flat fee covers as much legal advice as you need for the month – try getting that from a local attorney!
But here's the catch: The last time I checked, I'm still a human being who only has 24 hours a day to work with. And some of those hours have to go to pesky things like sleep, eating, and exercise. So I have to limit how many coaches I let sign up. That ensures that I'll always have time for your questions… and that you won't have to wait for weeks (or even days) to get the answers and advice you're looking for!
So if you're not cool with the idea of leaving your future to chance, and you want the targeted legal advice to do amazing things with your business… you owe it to yourself to lock in your membership today!
Remember… there are NO bad questions!
I know how it is when you have a question, but you feel kinda stupid asking because you think you should already know the answer… or because you've asked before and didn't quite "get it"… or because of a million other reasons.
Relax.
There are no bad, wrong, or stupid questions. If it's keeping you up at night (or just gnawing at the back of your mind in general)… send the question to me!
I'm super-friendly and easy-going when I'm dealing with clients, and I know that legal stuff is about as clear as a mud puddle to most people. So I'll answer every question by giving you the respect you deserve, and by explaining things in every-day language so you can run with my advice and make your business bigger, better, and stronger. I promise I'll leave my judgy-pants at home, ok?
I can't wait to give you the legal insights you need to grow your business… and to transform the lives of as many clients as possible!
Valerie Del Grosso
P.S.: You'd probably spend more getting just one question answered by a typical attorney than you're investing in this unique program each month. And avoiding just one big legal problem can save you enough time and money to pay for your membership for years on end. Why not do what savvy coaches all of the U.S. are doing? Click the button below to start your On-Demand Legal Ally membership now!